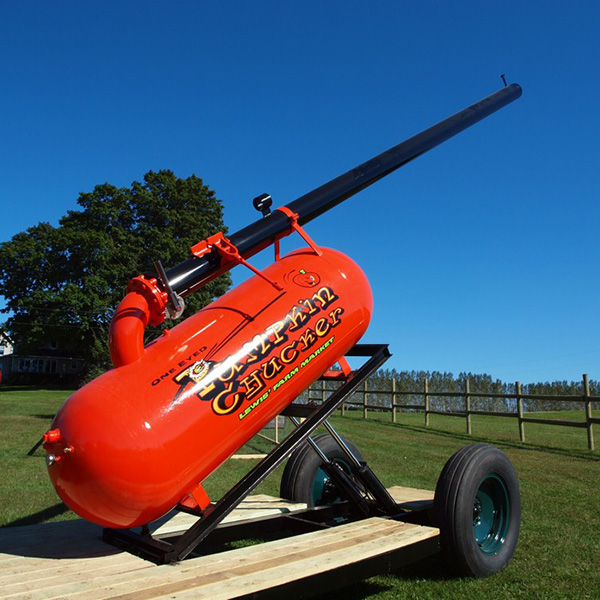 We have had lots of requests and have now added to our line of cannons.  The P-205 shoots 8" diameter pumpkins.  It consists of a 500 gallon propane tank with an 8" sweep bolted to an 8" butterfly valve, which is mounted to a 20' barrel.
There are no electronics, so all you need to operate is an air compressor.  We put a safety pop-off valve on each cannon which limits you to no more than 60 psi.  Pressure is not necessary to fire a pumpkin it's all based on volume.
We actually recommend firing between 25-40 psi, this will still shoot a pumpkin a great distance.  If you are shooting straight depending on the recommended pressure you can shoot 200-300'. If you miss what you are shooting at it can potentially go another 300' along the ground, make sure you have plenty of room.
If you mount it on a platform like an old truck with a hydraulic lift bed, you can easily shoot over ½ mile, of course that's all based on pressure and elevation.
FEATURES
500 Gallon Propane Tank: All fittings are removed and welded shut for a smooth appearance.  There is an inlet on the bottom for a fill point.
Breach load design:  We never want anyone at the end of a barrel.  Therefore, there is a breach just beyond the butterfly valve to load your pumpkins.
Each cannon has a 60 psi pop off valve. Tanks are rated for 250 psi but there is never a reason to go over 40 psi for what we are doing.
There is a pressure gauge on the backside to determine the correct pressure.
Each tank will be painted. We usually paint the tank one color and the barrel another color.
All pipe and fittings are schedule 40 steel for safety and strength.
OPTIONS
Pneumatic Butterfly Valve:  Want to go from a manual butterfly valve to one operated by a ball valve. We can add that now or later which allows anyone to shoot it.
Decals:  We have a company that can design graphics and install before shipping
Electric Over Hydraulic Lift:  We now offer a cradle that the cannon can sit in which allows you to raise and lower from a wired remote.  All you need to do is wire it to a 12 volt battery.