Little Buddy Candy Cannon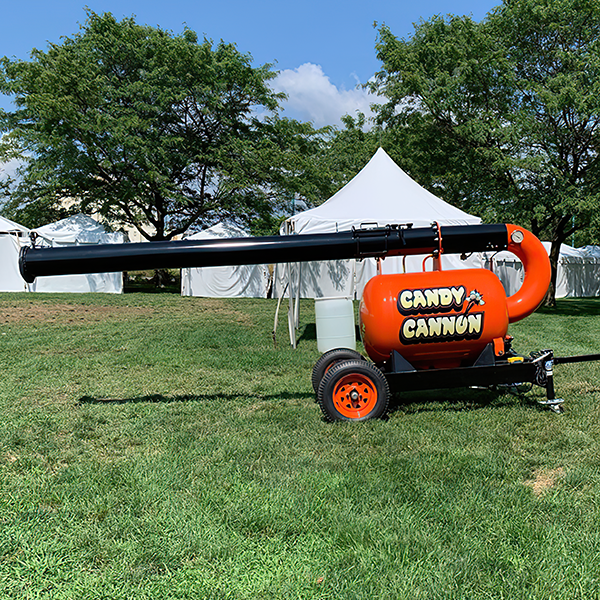 We wanted to create a cannon that was easier to move around than our giant pumpkin cannon.  Little Buddy is that cannon.  It can do everything our giant cannon can do just in a smaller package.
Our Little Buddy Candy Cannon has the ability to give your guests an experience that they won't see anywhere else.  Farms love the fact that it holds the crowd on the farm longer which gives you added food/retail sales while they are waiting.  This cannon has the ability to put the WOW in your operation!
FEATURES
Shoots up to 8" pumpkins.

Shoots up to 80 lbs. of candy.

Built in 12V to 110V inverter. No additional electricity required.

Has electric over hydraulic lift and lower capability.

Hard wired switch on the cannon that can be used to fire.

Has a breach load to insure safety, so you're not loading from the end of the cannon.

Comes on a trailer that can be pulled by a utv or atv.

Comes with a barrel cover to prevent anyone from putting anything in barrel.

Includes a reusable foam wad that is used to push the candy out of the barrel.

Highly efficient on air consumption.

Dual front jack stands for stability.

Pressure gauge to verify pressure.

Has a keyed switch to keep anyone from using it.
OPTIONS
Remote control to allow the cannon to be fired from up to 100 feet away, requires a second person at the cannon to use remote for safety.

Set up to fill tank with nitrogen to make completely portable.