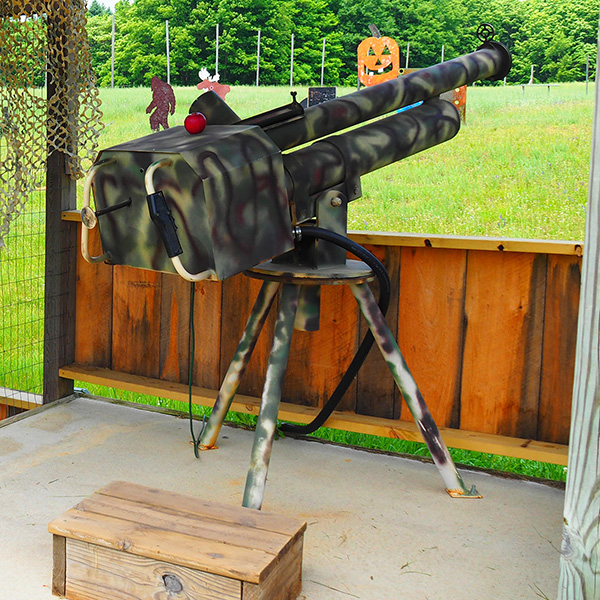 We can put chokes inside the barrel allowing you to shoot smaller apples — down to 2-inches in diameter.
A digital timer limits the amount of time the air valve stays open after each trigger pull. This stops the amount of air lost if a customer holds the trigger in. It automatically resets after release of the trigger.
Our breach design is completely removable, allowing you to clean the slide mechanism for ease of shooting and maintenance.
Each cannon has product liability insurance, giving you peace of mind that we build with safety foremost in our minds. One employee can manage multiple cannons.
Specifications
Cannons are capable of shooting up to 4-inch diameter apples and pumpkins.
Customers load and fire on their own.
Cannons max air is 125 PSI (80-100) recommended.
Cannons use approximately 3/4 CFM per shot.
Safety Features
When pushing in the mechanism to load, the trigger cannot fire.
No standing in front of cannon to load with breach load design.
Adjustable elevation stops to limit up and down travel for target range.
Welded stops for side to side movement of approximately 45-degrees.
Requirements
110 volt electricity.
Air line (size should be minimum 5/8-inch hose).
Waterproof covers available for purchase.